Governor John J. Gilligan: A Named Star in Virgo | International Star Registry
Updated: July 1, 2023     Author: International Star Registry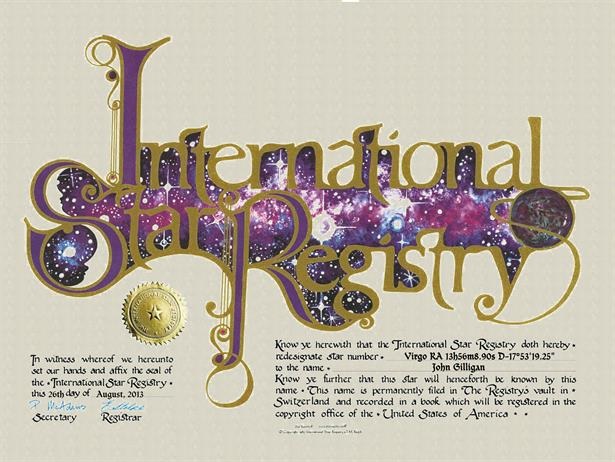 John Joyce Gilligan was an American politician who served as the 62nd Governor of Ohio from 1971 to 1975. Born on March 22, 1921, in Cincinnati, Ohio, Gilligan graduated from the University of Notre Dame and served in the United States Navy during World War II. After the war, he earned his law degree from the University of Cincinnati and became involved in politics. 
As a member of the Democratic Party, Gilligan served as a U.S. Representative from Ohio from 1965 to 1967 and as a member of the Ohio State Senate from 1967 to 1971. He was elected Governor of Ohio in 1970, defeating Republican incumbent James A. Rhodes. Gilligan's term as governor was marked by significant progress in education and environmental protection, including the establishment of the Ohio Environmental Protection Agency. 
In 2013, International Star Registry recorded a star name in honor of Governor John Gilligan. The star was named John Gilligan and its coordinates are Virgo RA 13h 56m 8.90s D-17° 53′ 19.25″. Virgo is one of the constellations of the zodiac and is represented by a maiden holding a spike of wheat. In astrology, Virgo is associated with the element of Earth and is said to be analytical, practical, and detail oriented. 
International Star Registry is a company that allows individuals to name a star and buy a star package as a unique gift for any occasion. The company has been in business since 1979 and has named stars for millions of people around the world. Customers can choose from a variety of packages that include personalized certificates, sky charts, and other items. 
In conclusion, John Joyce Gilligan was a prominent Ohio politician who made significant contributions to education and environmental protection during his time as governor. His legacy continues to be honored through the star named after him by International Star Registry. Naming a star is a unique and thoughtful gift that can be used for any occasion. For more information on International Star Registry and their star naming packages, please visit their website. 
References: 
FAQ
Q. Can I name a star?
A. Yes, you can name a star through International Star Registry. The company offers a variety of packages that include personalized certificates and other items.
Q. Where is Governor Gilligan's star located?
A. Governor Gilligan's star is located in the Virgo constellation. Virgo is one of the twelve zodiac signs.