Published: June 30, 2001    Author: Shania Twain North American Online Fan Club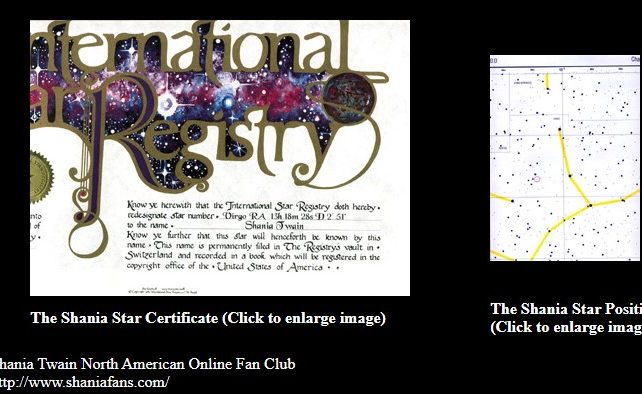 Dear Shania Twain North American Online Fan Club Members, 
First, we would like to take this opportunity to congratulate Shania Twain and her husband Robert "Mutt" Lange on their announcement that they are expecting their first child. We know in our hearts they are going to be loving and understanding parents. We are sure they feel the happiest people on this planet right now. All our best wishes to them!  
Since our Ad in the Timmins Daily Press on Dec. 1, 2000, in which we re-stated our unquestionable support to Shania and thanked her for her music, because it "has touched our lives in so many ways: whether it be by connecting with the lyrics, tapping to a beat, marking a moment of love, fun with friends or even soothing a cranky baby. It plays in our lives and touches us and those around us," we have thought about a way to celebrate Shania's career. 
Now in conjunction with the opening of the Shania Twain Centre in Timmins on June 30, 2001, we would like to announce this special presentation to the Shania Twain Centre and to Shania Twain: "In honor of all of Shania's love and devotion she has shown her fans. We would like to present her with the special gift, a star named after her." 
The star registration certificate below reads: 
"Know ye herewith that the International Star Registry doth hereby redesignate star number Virgo RA 13h 18m 28s D 2 degrees 51 minutes to the name SHANIA TWAIN. Know ye further that this star will henceforth be known by this name. This name is permanently filed in The Registry's vault in Switzerland and recorded in a book which will be registered in the copyright office of the United States of America" 
Next to the Certificate, you can also see the Shania Twain Star position on a constellation map. 
A HUGE Thanks goes to our Great Fan Club member and Super Shania Fan Cbspock for coming up with the idea and getting the project done! 🙂 Another HUGE Thanks goes again to Joni, the Fan Club project manager for coming up with the AD idea and getting that project done! Shania does indeed have great fans! 
Read original at: http://www.shaniafans.com/Shania-Star.htm 
Shania Twain North American Online Fan Club 
http://www.shaniafans.com/