SEE IT: Pete Buttigieg and Patrick Stewart square off in 'Star Trek' trivia match
Published: Mar 13, 2020 at 6:50 pm    Author: Brian Niemietz New York Daily News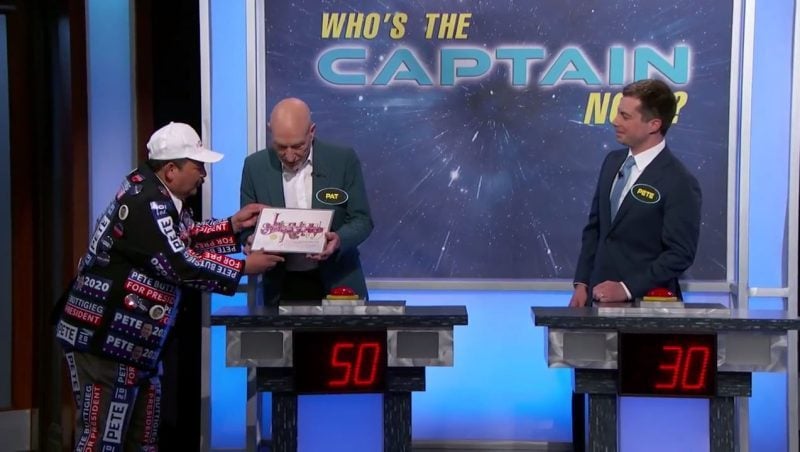 A "Star Trek: The Next Generation" trivia competition between the sci-fi show's star Patrick Stewart and former presidential candidate Pete Buttigieg came down to the wire on Thursday night's "Jimmy Kimmel Live," where the former mayor was serving as guest host.
The game show style showdown was hosted by former "Star Trek" actor LeVar Burton, who was also the subject of a trick question that gave Stewart the win.
The competition was called "Who's the Captain Now?" After both contestants were introduced, the questions started. The first one was a slam-dunk for Stewart.
"Name the only two characters to appear in every episode of Star Trek the Next Generation?" Burton asked. Stewart scored first by hitting his buzzer and correctly replying that his character Jean-Luc Picard and his second-in-command, Commander Riker, played by Jonathan Franks, fit the bill.
Burton and Stewart starred together in the classic sci-fi program, which aired from 1987 to 1994.
Buttigieg instantly tied the match by correctly identifying the bar on the USS Enterprise — the ship on which the show took place — as the Ten-Forward. The former South Bend mayor struck again, stealing the lead by correctly stating "Locutus" was the name Stewart's character was given by the show's alien antagonists known as the Borgs.
That surprised Burton. "My money was on you, Pat," the host said. "I don't know why you didn't get that one." Burton later asked Stewart, "Are you sure you were on 'Star Trek'?"
After a bit more back and forth, Stewart and Buttigieg found themselves neck and neck with one question remaining — and it was a tough one. "Did my character Geordie La Forge on Star Trek wear boxers or briefs?" he asked.
The contestants were stumped. Finally Buttigieg took a stab. "Boxers?" he reluctantly replied.
"Boxers" was incorrect. But according to Stewart, "briefs" was not the right answer either. "Ooh, I know," Stewart excitedly said. "Nothing."
That answer, according to Burton, was correct. For his winning efforts, Stewart had a star named after him through the International Star Registry. The retail value of that prize is $54.
Read more HERE 
Watch HERE