Jack in the Box: Jackboxicus Major by David&Goliath
Published: May, 2018     Author: TheDrum.com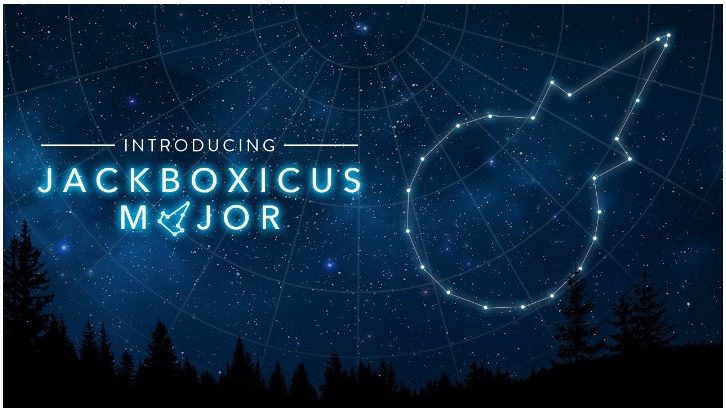 To celebrate May the Fourth Be With You and National Space Day, fast food restaurant Jack in the Box is making history with what it's calling "fast food's first-ever constellation." Being a promotional opportunity, the constellation is, of course, in the shape of Jack Box's unmistakable head. 
Created by David&Goliath, each star of the constellation is named after one of Jack's signature food items – like the Classic Buttery Jack star in the hat – so that astronomers, astronauts, space nerds and burger lovers can explore the Jack in the Box menu. 
D&G linked up with the International Star Registry (ISR) to claim Jack's place in the cosmos by naming stars that create a constellation in the shape of his head. Each star in the constellation will be included in ISR's star catalog with their telescopic coordinates and permanently recorded in their published catalog of stars. 
Jackboxicus Major will be shared on the brand's social channels, and you can see a Star Wars-inspired preview video by visiting the chain's Facebook page. 
Image Credit: David&Goliath
Agency: David&Goliath 
Founder & Chairman: David Angelo 
Chief Creative Officer: Bobby Pearce 
Creative Director: Steve Yee 
Creative Director: Robert Cuff 
Creative Director / Head of Social: Sara Buschkamp 
Designer: Ryan Lawrence 
Group Account Director: Dominique Branham 
Management Supervisor: Lindsay Brown 
Director of Digital Production: Peter Bassett 
Senior Digital Producer: Noah Luger 
Digital Producer: Kyle Stein 
Senior Developer: Ben Smith 
Developer: Mariano Echegoyen 
User Experience Design: John Randall 
Digital Designer: Meagan Steinkamp 
Chief Strategic Officer: Wells Davis 
Group Planning Director: Donesh Olyaie 
Senior Social Media Strategist: Natalie Gomez 
Associate Director of Project Management: Genie Lara 
Sr. Project Manager: Amy Chiang 
Project Coordinator: Cassandra Horne 
Executive Director Business Affairs: Rodney Pizarro 
Business Affairs Manager: Yenia Paez 
Associate Business Affairs Manager: Marlon Pineda 
Read more at: https://www.thedrum.com/creative-works/project/davidgoliath-jack-the-box-jackboxicus-major