Dakota Johnson Has a Star Named
Updated: July 1, 2023     Author: International Star Registry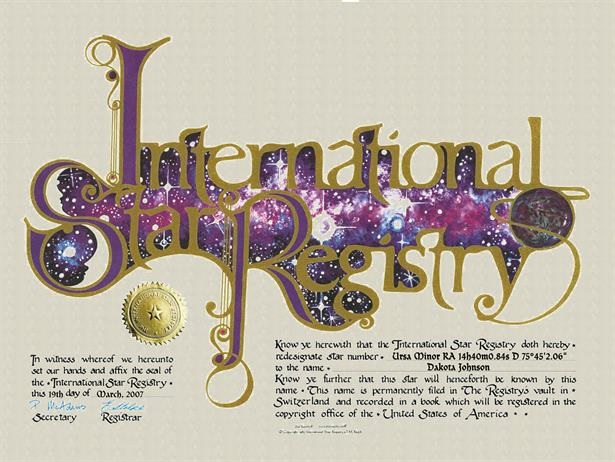 Dakota Johnson: A Stellar Journey through Life, Career, and Achievements 
In the vast expanse of the night sky, amidst the countless stars that twinkle and shine, there's a special celestial body that bears the name of a remarkable actress, Dakota Johnson. On March 19, 2007, under the constellation of Ursa Minor, at the coordinates RA 14h 40m 0.84s D 75° 45′ 2.06″, a star was officially recorded with the name "Dakota Johnson." This unique and heartfelt gift was made possible through International Star Registry, a place where you can name a star to create lasting memories for loved ones. This biography will take you on a journey through Dakota Johnson's life, career, and accomplishments, while also exploring the wonders of the night sky and the joy of recording a star name, making it a perfect gift for birthdays, Christmas, and even newborns. 
Dakota Johnson: A Glimpse into Her Life 
Dakota Mayi Johnson, born on October 4, 1989, in Austin, Texas, is an American actress known for her captivating performances on the silver screen. Her parents, Don Johnson and Melanie Griffith, are both accomplished actors, which undoubtedly influenced her journey into the world of entertainment. Dakota's early exposure to the film industry set the stage for her future success. 
A Shining Debut in "Crazy in Alabama" 
Dakota Johnson's cinematic journey began at the tender age of ten when she made her film debut in the dark comedy film "Crazy in Alabama" (1999). This film not only marked her introduction to the industry but also offered her the unique opportunity to share the screen with her mother, Melanie Griffith. This early experience planted the seeds of her future stardom. 
Breaking Through in Hollywood 
After completing high school, Dakota decided to pursue her acting dreams in the city of stars, Los Angeles. It wasn't long before she caught the eye of casting directors, landing a minor role in "The Social Network" (2010). This marked the beginning of her journey to stardom, and her career continued to ascend from there. 
Anastasia Steele: A Role that Defined a Career 
Dakota Johnson's breakthrough came when she took on the iconic role of Anastasia Steele in the erotic romantic drama film series "Fifty Shades" (2015–2018). Her portrayal of the enigmatic character earned her widespread recognition and catapulted her into the limelight. This role became synonymous with her name and showcased her versatility as an actress. 
A Diverse Range of Roles 
Beyond "Fifty Shades," Dakota has showcased her acting prowess in a diverse range of films. She starred alongside Johnny Depp in the crime drama "Black Mass" (2015), delivered a captivating performance in Luca Guadagnino's drama "A Bigger Splash" (2015), and showcased her comedic talent in the romantic comedy "How to Be Single" (2016). Her repertoire also includes roles in the supernatural horror film "Suspiria" (2018), the thrilling "Bad Times at the El Royale" (2018), the heartwarming coming-of-age film "The Peanut Butter Falcon" (2019), the psychological drama "The Lost Daughter" (2021), and Cooper Raiff's "Cha Cha Real Smooth" (2022). 
Accolades and Recognition 
Dakota Johnson's talent has not gone unnoticed. She has received various awards and nominations throughout her career. Her achievements include a People's Choice Award, a BAFTA Rising Star Award nomination in 2016, and two MTV Movie & TV Awards nominations. Her talent and dedication to her craft have earned her a place in Forbes' prestigious 30 Under 30 list in 2016. 
International Star Registry: A Gift Beyond the Stars 
Now, let's take a closer look at the magical world of the night sky and the opportunity to name a star through International Star Registry. Astronomy enthusiasts and romantics alike have long been fascinated by the celestial wonders above. Ursa Minor, the constellation that houses the star named after Dakota Johnson, is a part of this celestial spectacle. It is known for containing the North Star, Polaris, which has guided travelers and explorers for centuries. 
Recording a star name through International Star Registry is a unique and thoughtful gift idea for various occasions. Whether you're celebrating a birthday, exchanging holiday gifts at Christmas, or welcoming a new addition to the family, naming a star is a gesture filled with symbolism and love. It's a way to immortalize a moment, a memory, or a special someone in the night sky forever. 
Name a Star: A Celestial Connection 
When you choose to name a star, you're not only giving a gift; you're creating a connection between the recipient and the universe. It's a reminder that, just like the stars above, our loved ones hold a special place in our hearts. The name a star certificate from the International Star Registry serves as a testament to this connection, complete with the star's coordinates and the chosen name, in this case, "Dakota Johnson." 
Buy a Star Package: Customized and Memorable 
International Star Registry offers a variety of star packages to suit your preferences and budget. These packages often include a beautifully designed certificate, star maps, and other celestial-themed items that make for a memorable and unique gift presentation. You can personalize the star's name and coordinates to make it even more special for your loved ones. 
Creating Lasting Memories with "Name a Star" 
In a world where material possessions often come and go, the gift of a star name stands out as an enduring symbol of love and affection. It's a gesture that transcends time and space, just as the stars themselves have done for billions of years. The joy of naming a star is not limited to a single moment; it's a connection that will shine brightly in the hearts of your loved ones for a lifetime. 
Recording a star name is a heartwarming way to celebrate life's special moments. The act of recording a star name is a reminder that even in the vastness of the cosmos, there is a place for love, connection, and remembrance. 
Conclusion 
Dakota Johnson's journey from a young actress with a promising debut to a Hollywood sensation is a testament to her talent and dedication. Her diverse roles and accolades showcase her versatility and growing influence in the industry. As her star continues to rise in Hollywood, her name also shines brightly in the night sky, thanks to a thoughtful gift through International Star Registry. 
So, the next time you're searching for a truly unique and meaningful gift, consider the wonder of the night sky and the opportunity to name a star. It's a gift that will etch your love and memories among the stars, making it a truly stellar choice. 
References: