Updated: July 1, 2023     Author: International Star Registry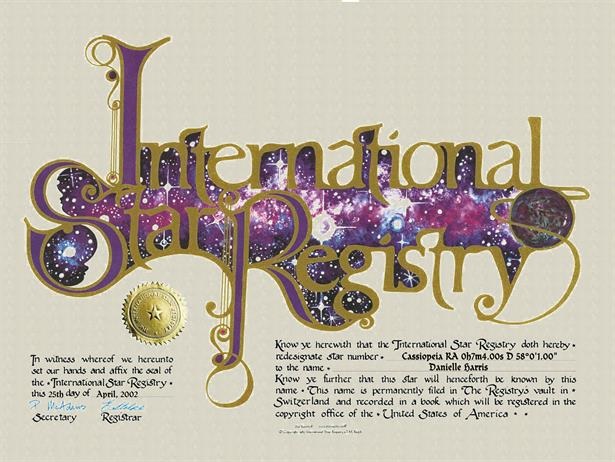 Danielle Harris: A Star-Studded Biography 
A Celestial Dedication 
In a gesture of love and admiration, someone recorded a star name with International Star Registry, naming it after the multi-talented actress Danielle Harris. This celestial dedication occurred on April 25, 2002, with the star located in the Cassiopeia constellation at coordinates Cassiopeia RA 0h 7m 4.00s D 58° 0′ 1.00″. This extraordinary gift beautifully illustrates the enduring impact of Danielle Harris on the world of entertainment and her status as a true star.  
Danielle Harris: A Stellar Career 
Danielle Andrea Harris, born on June 1, 1977, in Plainview, New York, has forged an illustrious career in the world of film and television. She is renowned as a "scream queen" for her gripping performances in numerous horror films. Notably, Harris left an indelible mark on the iconic Halloween franchise, portraying Jamie Lloyd in Halloween 4 and 5 (1988–89), and Annie Brackett in the Halloween remake and its sequel (2007–09). Her versatility shines through in other memorable roles, including Tosh in Urban Legend (1998), Belle in Stake Land (2010), and Marybeth Dunston in the Hatchet series (2010–17). Danielle's remarkable contributions to the horror genre earned her a well-deserved spot in the Fangoria Hall of Fame in 2012. 
From Child Star to Hollywood Luminary 
Danielle Harris embarked on her career as a child actress, captivating audiences with her talent from a young age. She graced both the small and big screens, with notable roles in films like Marked for Death (1990), Don't Tell Mom the Babysitter's Dead (1991), The Last Boy Scout (1991), Free Willy (1993), and Daylight (1996). Harris's remarkable voice acting skills also shine brightly, as she lent her voice to the character of Debbie Thornberry throughout the entire run of the Nickelodeon series The Wild Thornberrys (1998–2004), as well as in the related films The Wild Thornberrys Movie (2002) and Rugrats Go Wild (2003). 
A Directorial Debut in the World of Horror 
In 2013, Danielle Harris made a significant transition in her career by venturing into the world of film direction. Her feature directorial debut came with the chilling horror film "Among Friends." Prior to this achievement, she directed "Madison," a segment in the unfinished anthology film "Prank," in 2008, and a Stake Land companion short film in 2010. Danielle's journey in the entertainment industry has continually evolved, showcasing her unwavering passion and commitment to the craft. 
International Star Registry: A Gift Beyond the Ordinary 
International Star Registry offers a unique and thoughtful way to celebrate special individuals in your life. By recording a star name, you immortalize their essence in the cosmos. Whether it's for a birthday, Christmas, or Valentine's Day, this heartfelt gesture holds enduring significance. Name a star to create a lasting connection to the universe and a cherished memory for your loved ones. 
Explore the Cosmos and Buy a Star Package 
If you're considering the perfect gift, buying a star package from International Star Registry is a thoughtful choice. The process is as easy as navigating to www.starregistry.com/buy-a-star-kit/ and choosing the package that suits your needs. Explore the wondrous world of astronomy and share a piece of the universe with someone special.  
In conclusion, Danielle Harris's life and career have been nothing short of stellar. From her iconic roles in the horror genre to her foray into film direction, she continues to shine brightly in the entertainment industry. The dedication of a star in her name through International Star Registry serves as a fitting testament to her enduring legacy as a true star.