Adam Clayton has a Star Named after Him
Modified: July 1, 2023     Author: International Star Registry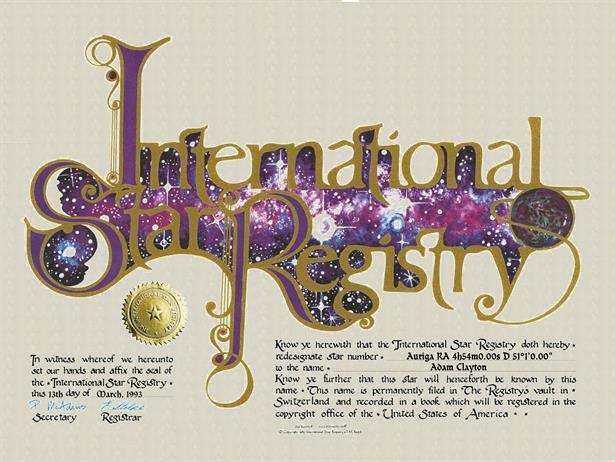 Biography of Adam Clayton: A Remarkable Career and Record of Star Name 
Adam Charles Clayton, an English-born Irish musician, has carved an indelible mark on the world of rock music as the esteemed bass guitarist of the legendary band U2. Born on March 13, 1960, Clayton has dedicated his life to creating captivating music that resonates with millions of fans worldwide. His extraordinary career, accompanied by numerous accolades and accomplishments, showcases his immense talent and unwavering passion for his craft. 
From an early age, Clayton's life was intertwined with music. In 1965, when he was just five years old, his family relocated to Malahide in County Dublin, Ireland. It was during his time at Mount Temple Comprehensive School that Clayton serendipitously crossed paths with future U2 bandmates. In 1976, they embarked on a musical journey together, co-founding U2, which would ultimately propel them to unparalleled heights of success. 
As a founding member of U2, Clayton has played an integral role in the band's evolution and artistic direction. Throughout his illustrious career, he has contributed his distinct bass playing style, characterized by "harmonic syncopation," which adds a unique driving rhythm to the music. Clayton's bass lines have become synonymous with U2's iconic songs, including "Gloria," "New Year's Day," "Bullet the Blue Sky," "With or Without You," "Mysterious Ways," "Vertigo," "Get on Your Boots," and "Magnificent." His innovative approach to the instrument has left an indelible imprint on the band's signature sound. 
Beyond his endeavors with U2, Clayton has also embarked on various solo projects that have further showcased his musical prowess. One notable collaboration was with his fellow bandmate Larry Mullen Jr. on the 1996 version of the "Theme from Mission: Impossible." This venture highlighted Clayton's versatility as a musician and his ability to explore new sonic territories outside the confines of the band's collective identity. 
Adam Clayton's remarkable contributions to the music industry have not gone unnoticed. As a member of U2, he has garnered an astonishing 22 Grammy Awards, cementing their status as one of the most successful and influential bands of all time. In 2005, Clayton's impact on music history was officially recognized when U2 was inducted into the prestigious Rock and Roll Hall of Fame. 
Beyond his musical achievements, Adam Clayton's star has reached far beyond the earthly realm. On March 13, 1993, a star was named in his honor as a heartfelt gift from the International Star Registry. The star's name, "Adam Clayton," forever shines brightly in the constellation of Auriga, precisely located at the coordinates Auriga RA 4h 54m 0.00s D 51° 1′ 0.00″. Auriga, also known as "The Charioteer," is a prominent constellation in the northern hemisphere sky. Its distinctive shape resembles a celestial charioteer, serving as a captivating backdrop for the star that bears Clayton's name. 
The field of astronomy continues to inspire awe and fascination among people worldwide. It allows us to gaze into the vast expanse of the universe, marvel at its celestial wonders, and contemplate our place within it. The study of stars, galaxies, and other astronomical phenomena unveils the mysteries of the cosmos, fostering a deeper understanding of our existence and igniting a sense of curiosity that transcends borders and cultures. 
The International Star Registry has emerged as a unique and extraordinary way to commemorate special occasions and individuals. With the ability to record a star name, it provides a truly unparalleled gift option for holidays, anniversaries, and Father's Day. Through the International Star Registry, one can encapsulate the magic of a star in a personalized and meaningful manner, symbolizing a cherished bond or a significant milestone. The act of naming a star evokes a sense of wonder and eternal connection, making it an unforgettable gesture of love and appreciation. 
In conclusion, Adam Clayton's life and career stand as a testament to the power of music and artistic expression. From his humble beginnings in Dublin to becoming an integral part of one of the world's most influential bands, Clayton has left an indelible mark on the music industry. His harmonically syncopated bass lines have become the heartbeat of U2's iconic sound, captivating audiences for decades. Beyond the realm of music, Clayton's star shines brightly in the constellation of Auriga, forever commemorating his enduring legacy. As we gaze upon the stars and marvel at the wonders of the universe, let us remember the immense contributions of Adam Clayton, a true luminary in the world of rock music. 
References:
[1] Source: Wikipedia – Adam Clayton (https://en.wikipedia.org/wiki/Adam_Clayton)  
[2] Source: IMDb – Adam Clayton (https://www.imdb.com)
[3] Source: Grammy Awards – U2 (https://www.grammy.com)  
[4] Source: International Star Registry (https://www.starregistry.com)